What Is Page Speed And Why Do You Need It?
In today's digital age, where everything happens in a blink of an eye, having a website with slow loading speed can significantly harm your business. Not only does it frustrate the user, but it can also lead to high bounce rates, low engagement, and a negative impact on search engine rankings. Fortunately, there are tools available to help you speed up your website and enhance the user experience, and one of the best ones out there is WP Rocket.
Boost Your Speed NOW with WP Rocket! Try it with a 14 Day No Risk Refund Policy
Contact Blue Coast Web Services today for a free page speed audit
Does page speed affect SEO?
Yes, it does. Google has confirmed that page speed is a ranking factor in its algorithm, and faster loading times can lead to higher search engine rankings. Additionally, slow loading times can lead to a higher bounce rate, which can negatively affect your website's SEO. Visitors are more likely to leave your website if it takes too long to load, and this can signal to search engines that your website is not providing a good user experience. By improving your website's speed with WP Rocket, you can optimize page speed and help boost your search engine rankings and improve your website's overall performance.

What is WP Rocket?
WP Rocket (add link here) is a powerful caching plugin that enhances the loading speed of your WordPress website. It optimizes your website by reducing the number of HTTP requests, minimizing the size of your HTML, CSS, and JavaScript files, and enabling browser caching. It also offers advanced features such as LazyLoading, which improves speed by loading images and videos only when they are needed. With WP Rocket, you can achieve faster page load times, improved user experience, and higher search engine rankings.
Why is Page Speed Important?
Before diving into the benefits of WP Rocket, let's first discuss why page speed is so crucial for your website. According to research, if your website takes longer than three seconds to load, you are at risk of losing a significant amount of traffic. A delay of even one second can lead to a 7% decrease in conversions, 11% fewer page views, and 16% reduction in customer satisfaction. Additionally, page speed is a critical factor in search engine optimization (SEO). Google has explicitly stated that they consider page speed as one of the ranking factors, and a fast-loading website will rank higher in search results.
Benefits of page speed with WP Rocket
Easy to Use: WP Rocket is user-friendly and easy to install. You don't need any technical knowledge to use it. Once installed, it automatically starts optimizing your website, and you can customize the settings to suit your needs.
Faster Page Load Times: With WP Rocket, you can achieve significant improvements in page speed. It reduces the size of your files and combines them into a smaller number of requests, leading to faster page load times and better speed scores.
Improved User Experience: Faster page load times lead to a better user experience. WP Rocket enables you to optimize your website for speed, resulting in higher engagement, lower bounce rates, and more satisfied users.
Better Search Engine Rankings: As mentioned earlier, speed is a critical factor in SEO, and WP Rocket helps improve your website's loading speed, leading to higher search engine rankings.
Compatibility with CDNs: WP Rocket is compatible with Content Delivery Networks (CDNs), which helps improve the loading speed of your website globally by caching the content on different servers worldwide.
Minification and Concatenation: WP Rocket reduces the size of your HTML, CSS, and JavaScript files by removing unnecessary code and comments. It also combines multiple files into one, reducing the number of requests sent to the server.
LazyLoading: WP Rocket's LazyLoading feature loads images and videos only when they are needed, reducing the page's load time and improving the user experience.
Database Optimization: WP Rocket also optimizes your website's database by removing unnecessary data, such as post revisions, spam comments, and trash.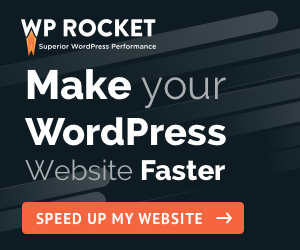 Increase your page speed scores with WP Rocket
Getting WP Rocket is easy. Simply go to their website (add link here), choose a plan that suits your needs, and install the plugin on your WordPress website. They offer different pricing options, including a single website license, a plus license for three websites, and an infinite license for unlimited websites. They also offer a 14-day money-back guarantee, so you can try it risk-free.
Conclusion
In conclusion, WP Rocket is a fantastic tool for improving page speed, user experience, and search engine rankings. Its advanced features, including LazyLoading, minification, concatenation, database optimization, and compatibility with CDNs, make it a must-have plugin for any website owner looking to enhance their website's performance. With its easy-to-use interface, fast loading speed, and ability to optimize various aspects of your website, WP Rocket is undoubtedly a great investment for any website owner.
Remember, a faster website means more traffic, more engagement, and ultimately, more revenue. So, if you haven't already, it's time to invest in WP Rocket and take your website's performance to the next level.
Boost Your Speed NOW with WP Rocket! Try it with a 14 Day No Risk Refund Policy
Contact Blue Coast Web Services today for a free page speed audit